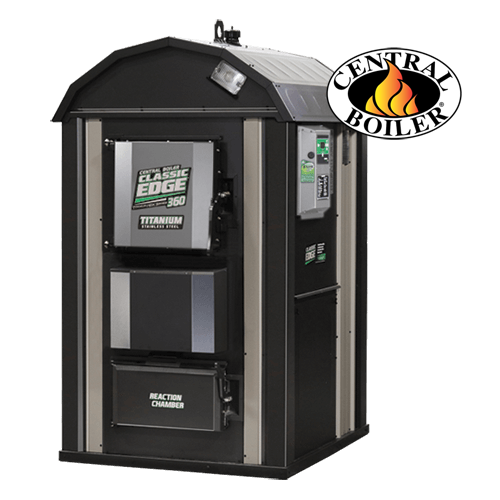 Central Boiler outdoor furnaces burn wood to heat water that is circulated through insulated pipes. Water can transfer its heat by direct circulation or by moving through one or more heat exchangers, or both. Of course, your situation is unique, so it's important you talk to a Central Boiler dealer to make sure you select the right model for your application.
Classic Edge HDX Models Deliver Best Efficiency, Highest Btu Rating
Higher efficiencies and Btu ratings deliver more heat using less wood. At 92% overall efficiency (LHV), the Classic Edge 960 HDX provides the highest efficiency of all EPA Certified stick-wood burning appliances.* It also delivers the highest Btu rating of cord wood appliances, with a rating of 400,000 Btu/hr. In fact, Classic Edge HDX models are TOP 4 for efficiency of all stick-cord wood heating appliances certified for sale for residential heating in the USA.
*EPA cord wood Hydronic Heater list 4/21/2022.
Heat Your Entire Home, Domestic Water and More with Less Wood
Introducing the Classic Edge Titanium HDX outdoor wood furnace. Classic Edge HDX models are among the most efficient outdoor wood furnaces that are EPA Step 2 Certified. High efficiency means less wood is needed to heat your entire home, domestic hot water and more. The titanium-enhanced stainless steel firebox is impervious to corrosion and designed to last a lifetime. Thousands of families rely on their Central Boiler furnace to provide warmth, safety and comfort while eliminating their high heating bill and giving them a better quality of life.
Cruise Control for the Furnace
STAY CONNECTED! More than just a controller, the FireStar Combustion Controller features built-in wireless connectivity, giving you the ability to communicate with the furnace without additional equipment or cumbersome ethernet cables.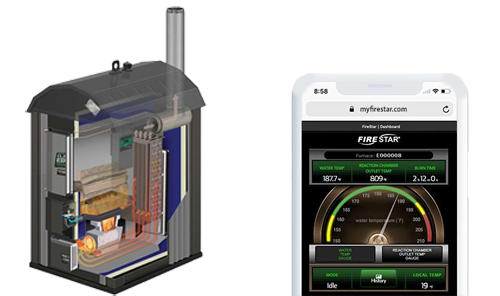 The FireStar® combustion "cruise" controller takes all the worry and guesswork out of wood heating. It constantly throttles the air to find the optimal burn for any kind of firewood, meaning you can "load it and forget it." FireStar constantly monitors how the wood is burning and adds air where and when it's needed for the cleanest, most efficient combustion. You can even see how it's operating in real time on your smartphone or set up notifications so you'll know when it's time to add wood.
Durability
The titanium-enhanced stainless steel firebox ensures zero corrosion inside the firebox and can last a lifetime. With features like Reserve Mode and the Burning Time Monitor, burn any kind of firewood.
Value
Use up to 60% less wood compared to other methods of wood heating and deliver more heat to your home. All Central Boiler furnaces are engineered to minimize heat loss, from the construction of the firebox door, panels and pump access area to the airtight, waterproof spray-on urethane foam insulation. The larger firebox allows for longer burn times, saving you even more time.
Classic Edge HDX models are EPA-certified clean-burning and are among the most efficient, best ways available to burn wood.
Central Boiler Wood Burning Furnaces